Let's face it, meetings are often ineffective. They can make extensive use of printed materials and divert personnel from other initiatives for lengthy periods of time. At any one moment, just one individual may contribute. Then there's the time spent writing and distributing minutes. Assigning responsibilities and tracking follow-up activities may be tricky. Meetings are often conducted in this manner because "that's how it's always been done," and many company executives simply don't have the time to consider if there is a better method.
The reality is that with the emergence of internet meeting places and apps, the game has altered dramatically. Meetings can be made much more efficient, interesting, and productive. It's also nice to know that many online meeting solutions are either free or extremely inexpensive to use. All you'll need is a functional smart device with audio, microphone, and camera, as well as a reliable internet connection.
There will almost certainly be a learning curve when ideas are implemented, but they may have a significant influence on the quality of your meeting time and the follow-up process. If you're not sure where to begin, go to your IT support staff; they should be able to give you some suggestions. In the meanwhile, consider incorporating some of these tech suggestions into your next business meeting to get the most out of it.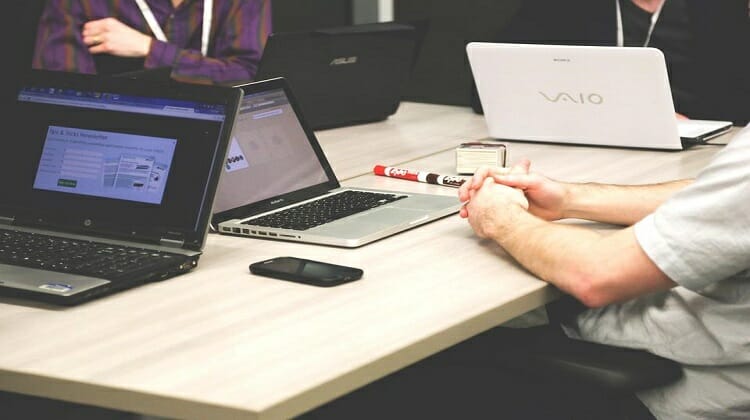 Prepare for the change in format
It's a good idea to assess your material and the meeting's goals before introducing a new manner of conducting meetings. A digital meeting is very different from a face-to-face one. Lectures, facilitated sessions, meetings, and workshops all have different functions and must be approached differently online. Make sure your team and content are ready to take advantage of the new format. It's fine if there are difficulties during the first few meetings; the quality of the meetings will improve as the new environments become second nature.
Brainstorming on a digital whiteboard
Brainstorming sessions used to be held around a whiteboard or a piece of paper. It used to be a great way to foster group collaboration, but nowadays, many teams work in different geographical locations. A whiteboard can't be used if the team members aren't in the same room. There are now a number of apps that allow this to be done digitally. Every guest gets the chance to participate and see how the board expands thanks to screen-sharing and the integration of finger touch technologies on tablets. The output may usually be stored, and some programs can even convert handwritten notes into searchable text.
Capturing thoughts from a group
This isn't quite the same as using a digital whiteboard. In this example, all attendees may post notes, thoughts, and contributions to a shared 'wall' during the conference. Everyone can be persuaded to participate. Introverted employees may feel more comfortable participating since it is a more passive medium. This is a fantastic tool for involving remote employees, boosting cooperation, and fostering teamwork. It establishes a fair playing field by allowing everyone to contribute without having to follow a hierarchy. Finally, fast thinkers don't have to wait their turn or, even worse, forget what they were going to say; instead, they scribble it down and express it right away.
Complete digital adaptability
The way remote employees communicate is evolving as digital meeting rooms grow. Video calls may be shared across devices without losing connection, making meeting on the go a possibility. Video and voice channels work in combination with chat boxes. In real time, files may be safely transferred. Other programmes, such as calendars for scheduling, or cloud-based data servers, such as the Google suite, may sometimes link with these digital surroundings. Slack is an example of a digital collaborative workplace. This online, cloud-based workplace saves all contributions, permits private and group chat, distributes documents, and integrates third-party tools like Salesforce and ZenDesk.
Obtain further feedback
It might be difficult to get feedback on projects or training sessions. Paper forms are expensive to distribute, and return rates aren't usually high. You'll get a greater response rate if you include quick online surveys in your digital training sessions. Typically, these polls may be performed anonymously, resulting in more genuine input. A 'hands up' option is included in certain online meeting software, which may be a simple and unobtrusive method for moderators or hosts to measure involvement and comprehension during a session. Questions may be posed and answered alongside the primary material delivery, depending on the meeting's approach. This may be overseen by moderators or left up to other participants' input.
Etiquette for online meetings
Online meeting places have the potential to bring people together in powerful ways. There are a few things to keep in mind since the setting is not the same as an in-person encounter. Make the most of your internet time by following these guidelines.

Assume your camera and microphone are turned on at all times

It's best not to consume anything during the meeting.

Make direct eye contact with your audience.

Don't get sidetracked by texting or reading your email.

To reduce visual distraction, choose clothing with no striped designs and avoid wearing noisy jewellery.

Allow for transmission delays by speaking at a slightly slower tempo and pausing.

Avoid interrupting others and indulging in side discussions; instead, concentrate on the primary speaker.
Digital meeting places may save a significant amount of time and work. The information gathered is nearly always instantly stored and made available to participants in real time. This greatly simplifies accountability and follow-up. It has the potential to significantly improve the efficiency of your next business meeting.
Computers in the City, your IT partner
Computers in the City is London's longest-standing IT partner. With over 20 years' experience, we can assist you to meet your IT support, consulting and cloud computing needs. We're proud to be local, offering 24-hour support in straightforward language that takes the stress out of IT support.